I believe most of my ideas come from art pieces I have done in the past. Ideas grow from ideas.
Ideas also come from other artist's work and from studying geometry of the sphere and also from theories in Science that I read.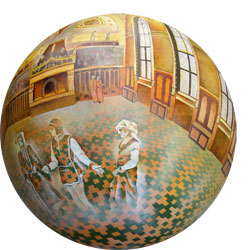 Many building interiors also have inspired my art. I have done a whole series of Famous Interiors of places like Notre Dame, Saint Chappell, St. Denis, Paris Opera in France, Blue Mosque, Hagia Sophia in Istanbul, St. Peters and the Pantheon in Rome, Stone Stonehenge and The Globe Theater in England. The Matthews Opera House that I am now working on is part of this series.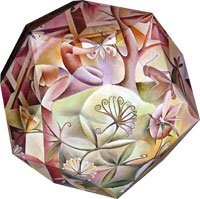 Some of my ideas grow from my subconscious mind. I sometimes paint a loose abstract painting with no image in mind. The patterns and colors stimulate images and ideas. I just have to be brave enough to follow my intuition for these images. It is fun to see what ideas are hidden within my mind.