I am planning to spend a little more time on my blog.   That doesn't mean I am giving up on Facebook,   I just plan to move you over to the blog for more details in some of my concepts so I have a little more room.   I really enjoy getting replies back from people on some of these ideas.  So at least once a week I will explain some new and old ideas to see if I can get some input from you.
I thought I would start at the beginning, explaining what I am trying to accomplish.  So, what is a Termesphere®?
For over 40 years I have been exploring a whole new concept in art and math.   I paint on spheres which, when completed, are known as Termespheres®.   Each Termesphere® is a revolving three-dimensional space/time exploration of an entirely closed universe, meaning that what you see, rotating in front of you, is a complete environment.   This uses a concept of Six Point Perspective to make it work.   I have lectured on Six Point Perspective and shown my Termespheres® and polyhedron paintings worldwide.
This shows two spheres that demonstrate Six Point Perspective.
CUBICAL UNIVERSE is a sphere of endless rooms within rooms which uses the Six Point Perspective.   Notice the three sets of lines within this piece and how the lines project to the vanishing points.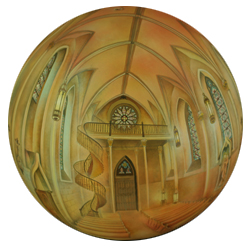 With THE LORETTO CHAPEL,   I spent about six days in the Loretto Chapel capturing this environment in Santa Fe, New Mexico.   I started this piece with six equal distant vanishing points.   If a line projects to the north, the same line projects to the south.   Look closely at the pews.  They run to the north and to the south?   I could have been located anywhere within this Chapel and the six points would still be in the same place, equal distance from each other.   If you know of any environments like this, let me know, OK?
So, this is a summary, this is one of the things I do in my work.   I hope to break down my thoughts and get some ideas back from you on some of these.  Hope you will join me.
Save