Cubical Universe Puzzleball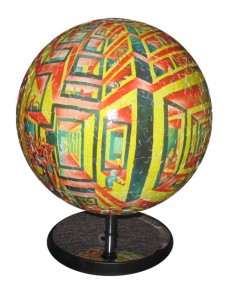 The Termesphere, CUBICAL UNIVERSE, was used to make a jigsaw three dimensional puzzle. One of the oldest puzzle companies in the world, Ravensburger Puzzle Company from Germany contacted me a couple of years ago to see if we could work together on producing a 540 piece 8.5 inch diameter spherical puzzle of one of my Termespheres.  The 540 pieces are all slightly convex which makes it form a smooth sphere.There are numbers on the back of the pieces for those who have trouble with puzzles.
Price $100.00

Termespheres by Mova
Termespheres capture the up, down and all around visual world from one revolving point in space.
Artist Dick Termes has teamed up with MOVA Globes and together they have created 4.5″ diameter miniature Termespheres that contain solar cells that cause the spheres to rotate almost magically. The revolutionary device inside the MOVA globes compliment the Termespheres perfectly.
Because they need no batteries or plugs, these revolving three-dimensional environments can be enjoyed and admired anywhere.
Three fingered acrylic base is included.
Each Termesphere by MOVA is individually signed and numbered by the artist. There are currently three spheres available, From the Earth, The Pantheon and Fish Eye View.
Drawing the Whole Picture

An example of this process on youtube.


This DVD shows how to use grids to creating drawings of one through five point perspective. This system of using perspective grids is a wonderful new way to teach students. The DVD is in fast motion so you can go through the six drawings in 40 minutes. Seeing the drawings materialize helps students experience the process. The drawings develop right in front of your eyes in fast motion, so each drawing takes only 5 to 6 minutes.
Price $20.00
Plus Actual Shipping

Buy
Drawing the Whole Picture

&

New Perspective Systems

and SAVE
DVD + PDF = $30.00
Drawing the Whole Picture &
New Perspective Systems PDF
New Perspective Systems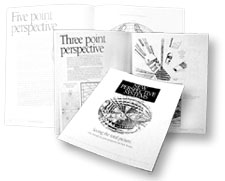 A Book On Perspective
This forty-page book takes you from traditional Renaissance, one and two point perspective, all the way to six point perspective. Six point allows you to draw the total up, down, and all around scene. Grids can be copied to help students move through these different systems very quickly. It gives students and artists a whole new way of thinking.
Special Notice: A valid email address is required for this purchase.
Once you complete your order you will be issued a 'Download Token'.
Physical Book
$15.00

PDF Book*
$12.50

* Click on the download link in the email and use your token to download the file. Tokens are valid for 24 hours after purchase.
Spherical Thinking DVD
Spherical Thinking DEMO
Spherical Thinking

This DVD shows over 40 spherical paintings created by Dick Termes. These paintings show a variety of subjects he uses such as realism, surrealism and geometric. Termes explains his work throughout this DVD with Gordy Pratt's classical guitar in the background. This is a wonderful way to see what six point perspective can do to capture total environments.
This DVD is about 42 minutes long.
Price $20.00
Plus Actual Shipping

Masters of Deception, by Al Seckel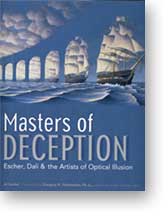 Masters of Deception is a collection profiling the work of over fifteen optical illusion artists (Giuseppe Arcimboldo, Salvador Dalí, Sandro Del Prete, Jos De Mey, M.C. Escher, Robert Gonsalves, Matheau Haemakers, Ken Knowlton, Scott Kim, Guido Moretti, Vik Muniz, Istvan Orosz, John Pugh, Oscar Reutersvärd, Roger Shepard, Dick Termes, Rex Whistler), profiling their work in depth. Most of the work in this volume has not been previously published. There is no comparable volume available. Introductory preface by Pulitzer-winning author Douglas Hofstadter.
Price $24.95
Plus Actual Shipping

Captured Worlds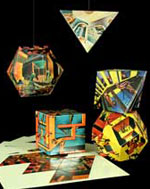 Five polyhedron paintings created by Dick Termes are reproduced in full color. Each work of art holds the six point perspective. These Platonic Solids are scored and perforated for easy assembly. They fold into four to five inch solids.
Price $15.00
Plus Actual Shipping

Harmonious Crystal Balls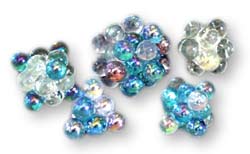 This set of the five Platonic Solids is made out of glass spheres stacked together. They can hang or sit.
Price $40.00
Plus Actual Shipping

Ten Total Views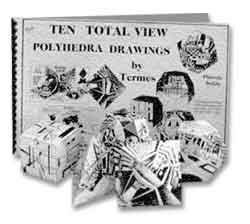 Most of these 11×17 pen and ink prints use a six point perspective system. They can be taken from the booklet and can be cut, scored and folded into all the Platonic Solids or can just be looked at on the flat.
Price $15.00
Plus Actual Shipping

Hemismirror of Einstein Looking for the Order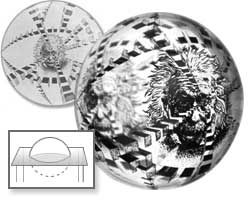 An 8″ transparent hemisphere with a mirror on the back side. This mirror gives the illusion that you are seeing a total sphere. The Hemismirror can hang on the wall or be placed on a table. Because you are actually viewing a perspective-illusion this piece is very difficult to photograph. Pictured in this photo is only one half of the Hemisphere. When you view it the other half is created in the mirrored base.
Price $100.00
Plus Actual Shipping

The Six Senses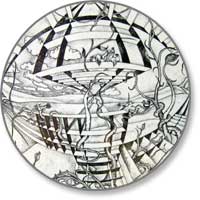 A transparent, black and white reproduction, 8″ diameter sphere. The Six Senses show the six senses of man becoming the six vanishing points that Termes uses in perspective. Plants take on the shapes of faces where the six projecting sets of lines vanish into the ear, eye, nose, tongue, finger tip and a spiral into the forehead of a man for the sixth sense. This piece shows what we sense is not so much outside as within ourselves. When this piece spins you find yourself entering the famous Termes Perspective Flip-you see as if you are inside rather than outside the sphere.
Price $200.00
Plus Actual Shipping

St. Peter's in Rome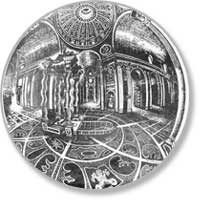 A transparent, black and white reproduction, 8″ diameter sphere that shows the interior space of the incredible St. Peter's Cathedral. A remarkable illusion happens when this transparent sphere spins. You find yourself inside the sphere looking at the back side of the sphere, seeing the total building turn in front of you. It is as if you are actually standing inside St. Peter's turning in a circle-the front side of the sphere totally disappears. This transparent sphere is very difficult to photograph. What you see here is one hemisphere of the sphere. The camera just doesn't work like your eye and mind.
Price $200.00
Plus Actual Shipping