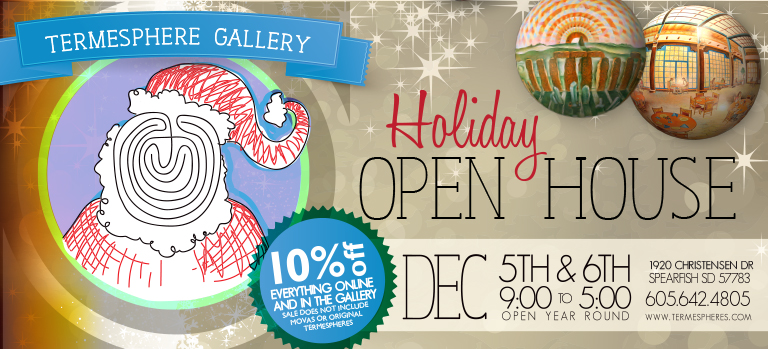 Saddle up the reindeer, put on your jolliest grins and get ready for the Annual Termesphere Gallery Open House.
This years event is going to be extra special with some new and exciting things.
Find tasty treats and unique gifts for everyone on your list (there might even be something there for you.)
Everything in the Gallery will be 10% off
with the exception of the Termespheres and the MOVA Globes
(so go ahead and enter the contest already)
… Aaaaand, just in case you can't attend the Gallery Extravaganza personally we have concocted a nifty promotion code you can use in the Termespheres.com Online Store.
Use promo code #TermesphereMovaGiveaway when you checkout to receive a 10% discount on eligible items.
We are giving away a beautiful MOVA Globe Termesphere
Saturday, December 5th at 4:00 PM MST.
Will announce the Termesphere MOVA Globe winner and will be streaming throughout the day via Periscope.
(To learn more about how to view the 'Scope' go to Termespheres.com/periscope.)